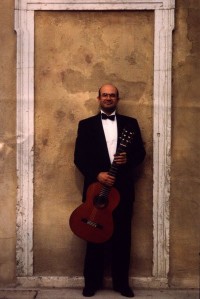 Giovanni Grano was born in Italy, in Basilicata Region. He studied guitar and graduated with flying colours under Ruggero Chiesa at the "G.Verdi" Academy of music in Milan,after which he attended several master classes with Oscar Ghiglia at the "Accademia Chigiana" in Siena, in Gargnano and with H.Smith (lute) in Sesto Fiorentino. He also graduated with honours at the Faculty of Humanities of Bologna and attended further studies at the University of Paleography and Musical Philology in Cremona.
He has published a number of essays on musicology for Bulzoni, Zanibon, E.ro.m. and Bčrben editions and has revised many unknown and rediscovered works for solo guitar as well as for guitar ensembles.His activity as a guitarist has seen him regularly playing in the main capital such as Paris, Hannover, Brno, Moscow, New York, Madrid, Berlin, Milan, Lausanne, London, Dallas, Budapest, St. Petersburg.
He also studied composition for several years with F. Donatoni at Milan "G. Verdi Conservatory and conducting in Prague with J. Stvàn.
He has been invited to performe concerts in several prominent festival,such as Salzburg, Zurich,Ljubljana,Printemps de Prague, Spoleto Festival dei Due Mondi, Segovia Festival 2002,Voronhez, Mantova Musica Festival, and also in various prestigious halls,where guitar concerts are a rarity(Tonhalle in Zurich, Glinka Theatre in St.Petersburg, Moscow Conservatory, Martinu Hall -Liechtenstein Palace in Prague, Palau de la Musica in Valencia, Columbia University in New York, Plilarmonic Theatre in Tallin, Philarmonic Theatre in Stettin, Auditorio Naciònal in Madrid, Teatro Bibiena in Mantua, Andrés Segovia Fundación in Linares).
He has recorded for the ORF in Austria, RAI in Italy and for national tv and radio broadcasting corporations in Germany, Poland, Slovenia, Russia, Mexico, Czech Republic, Rumania and Hungary.
He plays in duo with the violinists Vadim Brodski and Pavel Berman,with the cellist Mark Varshavski, as well as with many others prominent musicians and ensembles such as the "Kammermusiker Zurich sextet", the "Janacek string quartet", the "Amati string quartet", the "Gaudeamus string quartet", the Mozart Chamber Orchestra of Prague, the Philarmonic Orchestras of Stettin(Poland),Teplice(Czech Rep.) Ljubljana (Slovenia),Brasov (Rumania) under the conduction of S.Marczyk,G.Costin,J.Stvàn and I.Ionescu-Galati among the others. In his repertoire are the most important concerts (Vivaldi, Carulli, Villa-Lobos, Rodrigo, Giuliani, Boccherini). Having been for many years a regular teacher for "Poetic and dramatic Literature" and for "Music History and Aesthetics", Giovanni Grano actually keeps the chair of guitar at the "F. E. Dall'Abaco" Academy of Music in Verona. Has been invited as "guest professor" to hold a seminary at the Columbia University in New York in 1997 and a series of lectures on N.Paganini and L. Boccherini in 2005 at the Valencia University (Spain) and Brasov University (Rumania).
He also gives master-classes and lectures in many international Academies (Czech Rep., Russia, Spain, Germany, France, Slovenia, Rumania, Italy, Hungary, Switzerland, Poland, Showa Foundation Tokyo University) and in North American Universities (N. Y. Columbia Univ., Dallas Eastfield College, Dallas U.T.A. University, Wesleyan University Connecticut). He is often invited (as president and member) to judge guitar competitions in Italy and abroad (Mottola, Pescara, Voronhez, Rust, Brasov etc,). Many prominent composers have dedicated works to him for guitar, guitar ensembles as well as concerts for guitar and orchestra for first performance (V. Kucera, G. Bellucci, A. Spirea, J. Zarate, V. Roncero).
Very recently has performed a solo recital at the prestigious Royal Festival Hall in London.
In june 2005 was decorated with the academic title of "Honorary professor of Music" at the Faculty of Musicology of the Brasov University and was invited to give a master class at the celebrated Yale University.
He has already recorded a series of monographic CD dedicated to the romantic and contemporary music for guitar, to Paganini sonatas for violin and guitar ( in duo with V. Brodski) for the austrian label "Zero Point Music". His last CD "Phantasia" was recorded and produced by the italian label "Symposium". Giovanni Grano ranks among the best guitarists of his generation and he has always been enthusiastically received by the public and critics. He has also been artistic director of some Festivals (Festival del Vulture, Suoni nella Badia, Mantua international guitar festival, Museo di sera, Groznjan festival, S. Maria di Sala).
Giovanni Grano performs with a guitar by Kolya Panhuyzen, 1994, and with RC Strings.
Discography